Term 'highly inappropriate' his remarks against those opposed to GM crops, nuclear plants
Taking strong exception to Prime Minister Manmohan Singh's remarks against NGOs who opposed genetically modified crops and nuclear power plants, a group of eminent citizens said that it was a "highly inappropriate misrepresentation of facts."
In a strongly-worded letter to him, the group led by the former Supreme Court Judge, V.R. Krishna Iyer, and including the former Chairman of the Atomic Energy Regulatory Board, A. Gopalakrishnan, said it was the government and not NGOs which were working against the interests of the country.
"In reality, what we are all working against is indeed a foreign hand operating at the behest of and from within your government, supported by Indian and foreign commercial entities, to corporatise Indian agriculture and farming practices and the energy sector, without in-depth and impartial analyses."
"The prominently visible foreign hand of the U.S. in these two greatly important issues with ramifications for our country far into the future [and with regards to GM crops, irreversibly so], is squarely created and abetted by the UPA [United Progressive Alliance] government."
Criticising the Prime Minister for his view expressed in an interview in international journal Science, that the thinking segment of the Indian society was for GM crops and nuclear power plants, the group said, it "betrayed an inappropriate distinction" between thinkers and non-thinkers solely on the basis of agreement or disagreement with government policy.
Emphasising that informed dissent and a healthy response to it by the government through dialogue was vital for a functioning democracy, the letter also alleged that concerned citizens and groups had sent several communications to the Prime Minister's Office highlighting gaps in safety and liability surrounding GM crops and nuclear power plants over the past two to three years, but the PMO has not even acknowledged their receipts.
The group urged the Prime Minister to initiate a "truly inclusive" process of deliberations with all stakeholders in civil society to help formulate a "rational" public policy with regard to the two technologies.
The letter was signed among others by former Union Power Secretary, E.A.S. Sharma, former Chief Election Commissioner, J.M. Lyngdoh, former Chiefs of Naval Staff, Vishnu Bhagwat, L. Ramdas and R.H. Tahiliani, activists, Medha Patkhar, Aruna Roy and Prashant Bhushan, historian, Romila Thapar and writer, Praful Bidwai.
Copies of the letter have been sent to UPA chairperson Sonia Gandhi and Tamil Nadu Chief Minister Jayalalithaa.
Addressing a press conference, Prof. Bidwai said anti-nuclear activists across the country would organise conferences, workshops and other such programmes on March 11 to mark the first anniversary of the Fukushima disaster in Japan and follow it up with a "Kudankulam chalo" programme on March 15 to express solidarity with activists and NGOs protesting against the nuclear power plant there.
Emphasising that the agitation at Kudankulam had remained peaceful, he strongly refuted allegations that it was being promoted by foreign powers who were against the plant, which was being constructed in collaboration with Russia. "Anti-nuclear agitations are not confined to Kudankulam. Similar campaigns are on in other places also, where nuclear power plants are proposed to come up in collaboration with France, the U.S. and other countries.".
How is Manmohan Singh different from nuclear waste?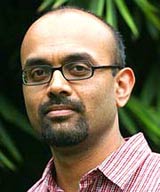 G Sampath
In one of her talks in Mumbai that I attended some years ago, Arundhati Roy posed this question to the audience, or maybe she was quoting from a Hindi poem. She asked, 'Kya kar raha hai Manmohan Singh aaj kal?' As the audience tittered, she answered, 'Vish kya karta hai khoon mein utarne ke baad?' (What is Manmohan Singh doing these days? What does poison do after it enters the blood stream?)
I don't remember the context in which she made these comments, but it is an apt description of Singh's doings over the last couple of weeks. A man who is, according to popular perception, 'weak', 'a puppet', 'silent', and 'timid', roars into life just when it matters most. Matters most to whom is the billion dollar question (pun intended).
The last time Singh displayed signs of possessing a vertebral column was in 2008, when he actually threatened to resign if the India-US nuclear deal did not happen. He eventually pushed it through despite the majority in Parliament (the much-vaunted 'mandate' of the Indian people) being against it. And we all know about the cash-for-votes scandal that accompanied the trust vote over the nuclear deal.
This time, once again, it is for the nuclear lobby that Singh has rediscovered his tongue and spinal cord. In an interview with the American journal Science, he has made uncharacteristically malicious allegations about the people's movement against the Kudankulam nuclear power plant, suggesting NGOs funded by US and Scandinavian donors are backing the protests.
If the NGOs connected with the anti-nuclear agitation have diverted foreign funds, sure, they need to be dealt with as per the provisions of the Foreign Currency (Regulation) Act. But is that the issue here? What I find rather pathetic is the reptilian manner in which Singh has successfully shifted the Kudankulam debate away from the real issues (like cost, safety, and the absence of an independent nuclear regulatory regime) to a non-issue (foreign-funding of NGOs).
One might well ask: Is it the protests against the Kudankulam nuclear plant that is funded by foreign money, or the plant's advocates, namely, Singh and his government? Who exactly are the foreigners here? The guys building the plant are Russians. The nuclear fuel for the reactors will also be supplied by foreigners, maybe Americans, who are now eligible to do so, thanks to Singh's nuclear deal. As for the man maligning the opposition to the project, well, Singh is undoubtedly the most foreign money-friendly PM in India's history.
And who is the PM accusing of taking money from foreign hands? The protesters opposing the Kudankulam nuclear project. And who are they? Fisher folk, farmers, shopkeepers, Dalit workers, beedi-rolling women, and residents of Kudankulam and Idinthakarai villages. These fishermen and workers have been forking out small donations in cash and kind to sustain their simple, nonviolent struggle. They don't need big money to keep their protests going simply because it's a matter of life and death for them.
But even assuming, for the sake of argument, that foreign money has gone into sustaining these protests, does that make the protests illegitimate? The government has the entire resources of the state at its disposal, not to mention a compliant media ready to offer crores worth of media space for pro-nuclear, pro-state propaganda. Setting aside the legality of it, don't the poor villagers of Kudankulam — the David fighting the Goliath of the corporate state — have a moral right to access whatever financial support comes their way, be it from within India or abroad?
Having said that, Singh has not produced a shred of evidence to back his insinuation that the Kudankulam protests are aided by foreign NGOs. And now, following his lead, the Maharashtra State Congress has begun to allege that the protests against the Jaitapur nuclear project are also backed by foreign NGOs.
Basically, the idea is that the state will have a monopoly over virtue, just as it has a monopoly over the use of force. And the lever that will enable the state to retain this monopoly is the notion of 'national interest', which assumes centrality in the emotionally charged discourse of patriotism. Violent protests will be dismissed as Maoism or terrorism or separatism, all crimes against the Indian state. And non-violent protests that threaten to upset the corporate applecart can be dismissed as foreign-funded and hence anti-Indian. And, of course, who can dare argue with patriotism?
But what a strange and schizophrenic patriotism this is, which believes India cannot grow without foreign money or FDI, and welcomes foreign capital in the form of a Monsanto but launches a witch hunt against NGOs that may campaign against Monsanto using foreign money.
Much has been made of how Singh is supposedly 'clean'. In reality he's no different from a Raja or a Koda — only, his corruption doesn't take the form of graft. Singh's corruption is the corruption of a functionary, of someone who can stoop to any level to please his political masters, or mistress, as the case may be, and this somehow strikes me as far more ignoble than the corruption of someone who is merely greedy or power-hungry.
In a matter of just 20 years since liberalisation, unleashed, incidentally, by Singh in his avatar as finance minister, the world's biggest democracy has devolved into a banana republic where a bunch of thugs can easily murder freedom of expression and get away with it while it's almost impossible to express dissent or protest in a meaningful manner. The Indian state, and foreign capital, whose domestic help Singh is, have it all worked out. The poison is doing its job well.
sampath@dnaindia.net
DNA